And so another month has gone by and it's time for Kadie and Jenny's readalong linky party. This month I read a bunch of great books that I enjoyed and ditched a bunch of books that I couldn't get into. It was a real mixed month.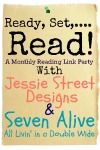 One of the great books, was Memoirs of a Geisha by Arthur Golden. I had seen the movie a long time ago, but didn't really remember much of it, so it didn't spoil anything for me.
This was a longer read than I normally undertake, but totally worth the extra time to get through it.
The book starts off in a small fishing village with young Chiyo living her simple life. Her mother is dying, her father is old and there is noone to take care of her and her sister. When her mother finally dies, the girls are sold to the big city of Gion with big hopes for their futures.
Initally, Chiyo is a maid at an okiya (Geisha home) but is still hopeful that she will become a Geisha. There comes a day when she loses hope that this will happen and sits to weep beside a river. A man (The Chairman) stops to ask after her and comfort her. She falls in love with him after this exchange and believes that she is destined to be with him.
Chiyo wants to be a Geisha. Her life takes many twists and turns, even after she becomes a Geisha but she does not get close enough to what she believes is her destiny - life with The Chairman. The end takes a somewhat surprising turn based on some crazy behaviour by Chiyo (who is now called Suriya) but wraps up nicely.

I absolutely loved this peek into the world of the Geisha and Japanese culture. The tea houses and ceremonies are captivating. Suriya feels a little selfish to me but that doesn't take away from this story. A great read. I was captivated until close to the end, when I felt that the book started (oddly) to drag a bit. Definitely recommend.